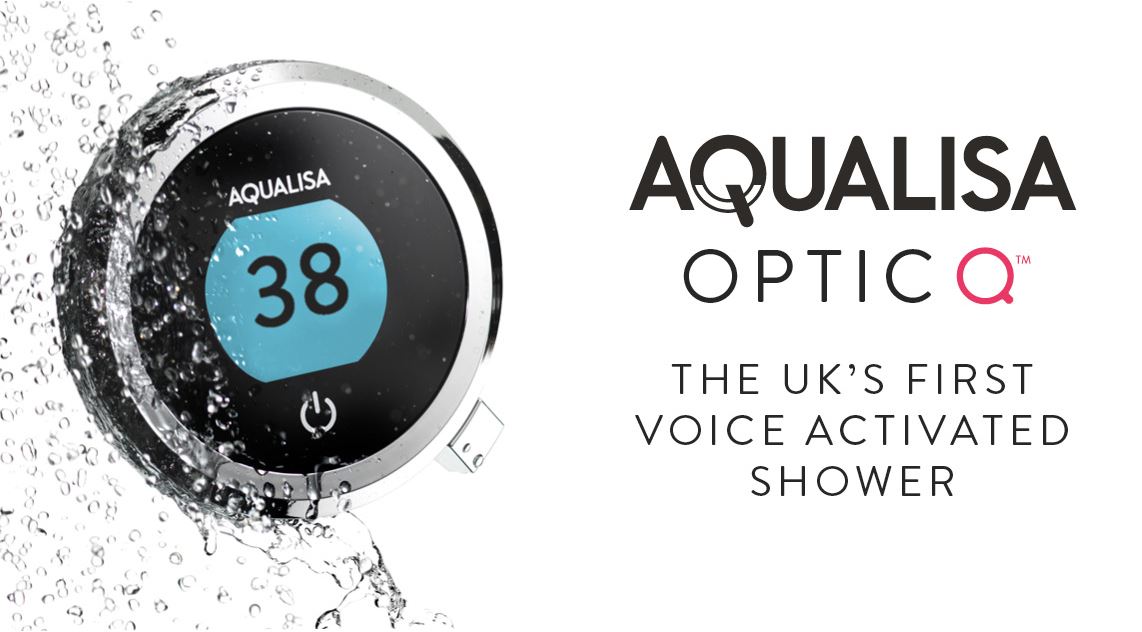 NEW PRODUCT LAUNCH - Aqualisa launches the UK's first voice activated shower - Optic Q
Published: <time>2020-06-08 08:05:00</time>
OPTIC Q LAUNCH
The shower marketplace is witnessing the most exciting development in the showering environment for many years with the launch of the new truly smart shower from Aqualisa – the Aqualisa Optic Q shower - available now through leading online retailers. This offers consumers the first truly smart, voice-activated, connected and technologically advanced shower ever offered in the UK and Ireland. This is a natural evolution to the popular personalised Q shower from Aqualisa.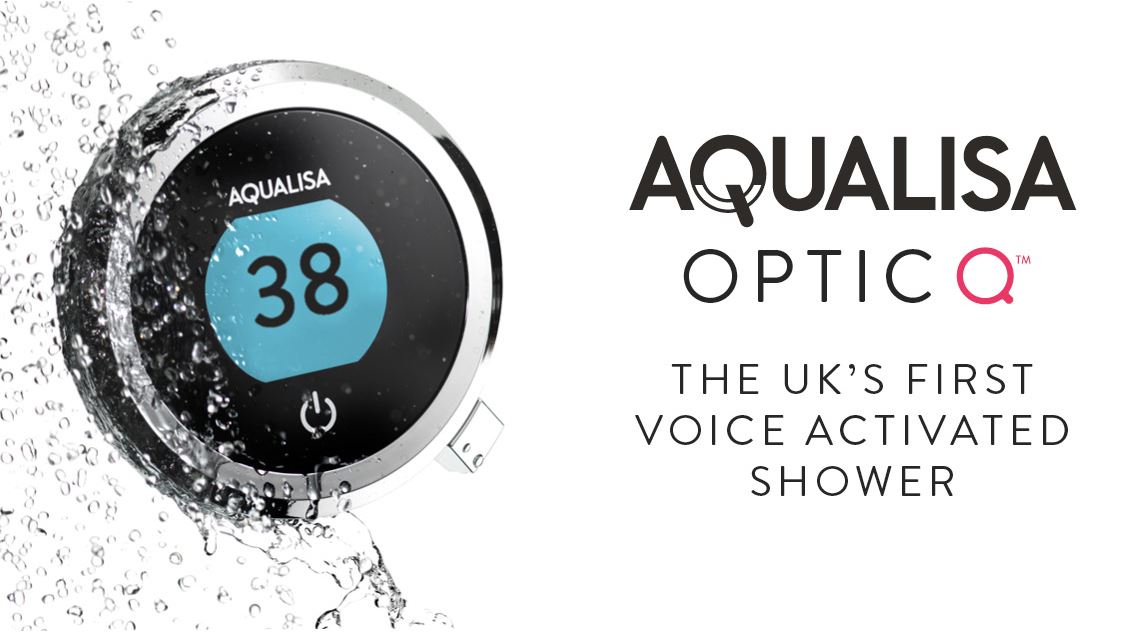 THE RISE AND RISE OF THE SMART HOME…WELCOME TO SMART SHOWERING….
Almost imperceptibly, the smart home is becoming a reality. It's not just a niche market anymore and Aqualisa, the leading UK shower manufacturer, has recognised this and is responding to the increasing demands of a marketplace that is driven by the benefits of smart technology in the bathroom.
This will not only replace digital showers but also mainstream mixers. Smart products are popping up in even the most conservative homes across the UK. BSRIA reports that the value of the UK's smart home solutions market, which includes installation, servicing and maintenance work, has grown by more than three times in value over the last five years. With a current market valuation of £400m, the association cited demand for HVAC and control products as key factors behind the anticipated market growth.
The research concludes: "In countries like the UK, anyone connected with the residential housing market needs to be aware of the implications of the smart home revolution. Consumers may not necessarily be expecting a fully configured smart home, but they are likely to want a home that is flexible enough for them to make it as smart as they want it to be without undue cost or effort."
Specifically relating to the UK shower equipment market, AMA research suggests that despite a challenging economic climate, longer-term prospects are more positive. The report reinforces the growth forecast in this sector by saying that 'flexibility, durability, and ease of use will be key influences in a shift towards higher-value products. For example, while the digital shower category has been growing at a steady rate, the greater use of smart technology in the home is now expected to not only create a new smart category but one that has the potential to grow at a fast pace. This growth will come from both new shower installations and bathroom refurbishments when a shower upgrade is part of the package.
57% of UK homes now own some sort of smart device. Clearly, smart tech is no longer just for gadget lovers. Homeowners are beginning to realise that technical updates are making homes cheaper and more efficient to run than ever before. Even those who have traditionally been reluctant to invest in technology in the home are starting to spend their money on smart products if it clearly makes sense from a financial or common-sense point of view. Smart technology can reduce energy consumption, save money and offer unprecedented levels of security and convenience. It's really happening and companies in these sectors – like Aqualisa - are responding with innovative solutions that just a few years ago might have seemed at best fanciful.
THE LAUNCH OF THE AQUALISA OPTIC Q
Reflecting its long-established leadership in digital shower technology, that has now been succeeded by the release of the new Smart Optic Q – a genuinely smart shower, that brings internet connectivity, voice activation and control via an App, through the new Aqualisa Smart Valve, the brains behind intelligent showering. The best-selling Quartz digital evolved into Q which was launched in 2017. Aqualisa has now taken a revolutionary step into the world of smart introducing the truly Smart Optic Q, that fully establishes showering as an integral part of the smart home. This exciting new shower features voice activation for the first time in the UK marketplace and is available from leading online suppliers now.
The partnership with Google and Amazon is a vital part of the new connectivity on offer to consumers, with Aqualisa, Alexa and Google sharing brand values and reach capability.
Importantly, the new shower remains easy to install and ultra-reliable as was its predecessor – so this is still a true 'fit and forget' shower unit. As with all Aqualisa showering digital products, it's designed for the end-user, but equally for the installer who will love working with these products for their ease of location and simple pipework connections. Aqualisa built its reputation with installers and consumers alike on quality and reliability and the new Aqualisa Smart Optic Q evolution enhances that reputation still further. It offers the best of both worlds for installers and their customers and is set to become the latest instalment in the company's impressive success story.
No longer confined to 'techy enthusiasts', we know that more and more consumers are looking for smart devices to make their lives easier, to facilitate busier lifestyles, to meet increasingly complex needs - helping mobility for example. Technology gives them more personalised experiences and of course, vitally, can save them money.
The new Smart Optic Q from Aqualisa offers a new generation of showers to increasingly demanding customers who are looking for the very highest standards of design and functionality. Indeed, the product story for digital showers over the last twenty years was all about style while its high performance and reputation for reliability have never been bettered. Aqualisa recognised that digital showers needed to evolve with the times and we've taken this to the next level with truly smart showering in mind.
Establishing Wi-Fi connection, app technology and voice activation as integral to the showering experience – all things that come as standard with the new Smart Optic Q from Aqualisa – is the next big step for showering here in the UK and is simple to use.
App technology allows homeowners to control their smart shower via WIFI, connecting through residential WIFI networks to the Aqualisa Smart Valve (ASV) using safe and secure best practice for IoT/Connected devices. It utilises the simplest on-boarding techniques possible to establish secure and robust connection with the ASV via WIFI. It also integrates into established smart home eco-systems via voice control – using Alexa and Google Nest. So, the new Smart Optic Q delivers the usual quality Aqualisa showering experience homeowners are used to – but with enhanced smart features that take that showering experience to new levels. The new Smart Optic Q is available in an online product kit that includes control, fixed and flexible showerheads and a hose. Remote controls that can be installed up to 10 metres from the shower are also available.
The Optic Q offers the most personal showering experience yet and it's a shower product to which devotees of the smart home will aspire. Every member of the family can activate their own personal shower requirement – created and saved on the App for the perfect, consistently repeated showering experience.
These exceptional new showers are connected by WI-FI – not Bluetooth and are Google and Alexa enabled. You can control your shower or bath from inside or outside the home, providing the ultimate in control – walk through the front door and your bath can be ready to the exact depth and temperature you require – or your shower is ready to help you relax immediately.
The benefits of this incredible connectivity include precise temperature and a powerful showering experience whatever water supplies it is connected to. Shower profiles can be pre-set for each member of the family to ensure they can each, consistently, get into a shower they enjoy. They can start their shower remotely from anywhere at anytime, via WIFI, confident that the shower is at the perfect temperature and ready to step into. A clearly visible LED display indicates when the shower is ready – so there's no need to lean in and test the water.
The new Smart Optic Q puts showering at the cutting edge of home automation – but the sophisticated technology remains simple to use for homeowners, who just want their desired shower experience at a single touch. With connectivity comes efficiency and with the intuitive and practical Aqualisa app, you can monitor the duration, water usage and cost of your shower from your smart phone or device, to optimise performance, if you choose.
It's a new shower option that will surpass the expectations of installers and consumers, with its innovative added value features and benefits that were not possible on the traditional digital shower – affirmation that Aqualisa continues to lead the way in showering innovation.
For further information, please contact:
Sian Brink, Head of Marketing, Aqualisa – 07801 752172
Or Steve Paddock, Paddock Communications – 01886 833 333 or 07771 966054